Dear friends, we've got new beer and label.
We've always thought that beer is not a merely cool and delectable product. A bottle of good Ukrainian beer may contain some small message from Ukraine. Thus, a series of political beers has appeared in Beer Theatre "Pravda" commemorating people or events that strongly influence political processes throughout the world and Ukraine in particular.
Today we'd like to introduce you our new beer – "Trudeau".
The beer label reads the following:
Justin Pierre James Trudeau is the youngest Prime Minister in the entire history of Canada. Leader of the Liberal Party, beloved by women, and kind of sex symbol. Trudeau is known for his sympathy for colored socks & marijuana, in addition to supporting the struggle for women's rights, and the LGBT movement. Trudeau enjoys boxing, and often gets into gossip speculations in the tabloids – he now represents a new generation of politicians. Since the beginning of the war in Eastern Ukraine, Trudeau actively supports the Ukrainian government, and condemns Russia's actions.
Christina Alexandra "Chrystia" Freeland – Minister of Foreign Affairs of Canada, has Ukrainian descent. Freeland swore her oath by putting a hand on the Gospel in Ukrainian. Currently, she actively lobbies interests of Ukraine, in the government of Canada, and in the international arena.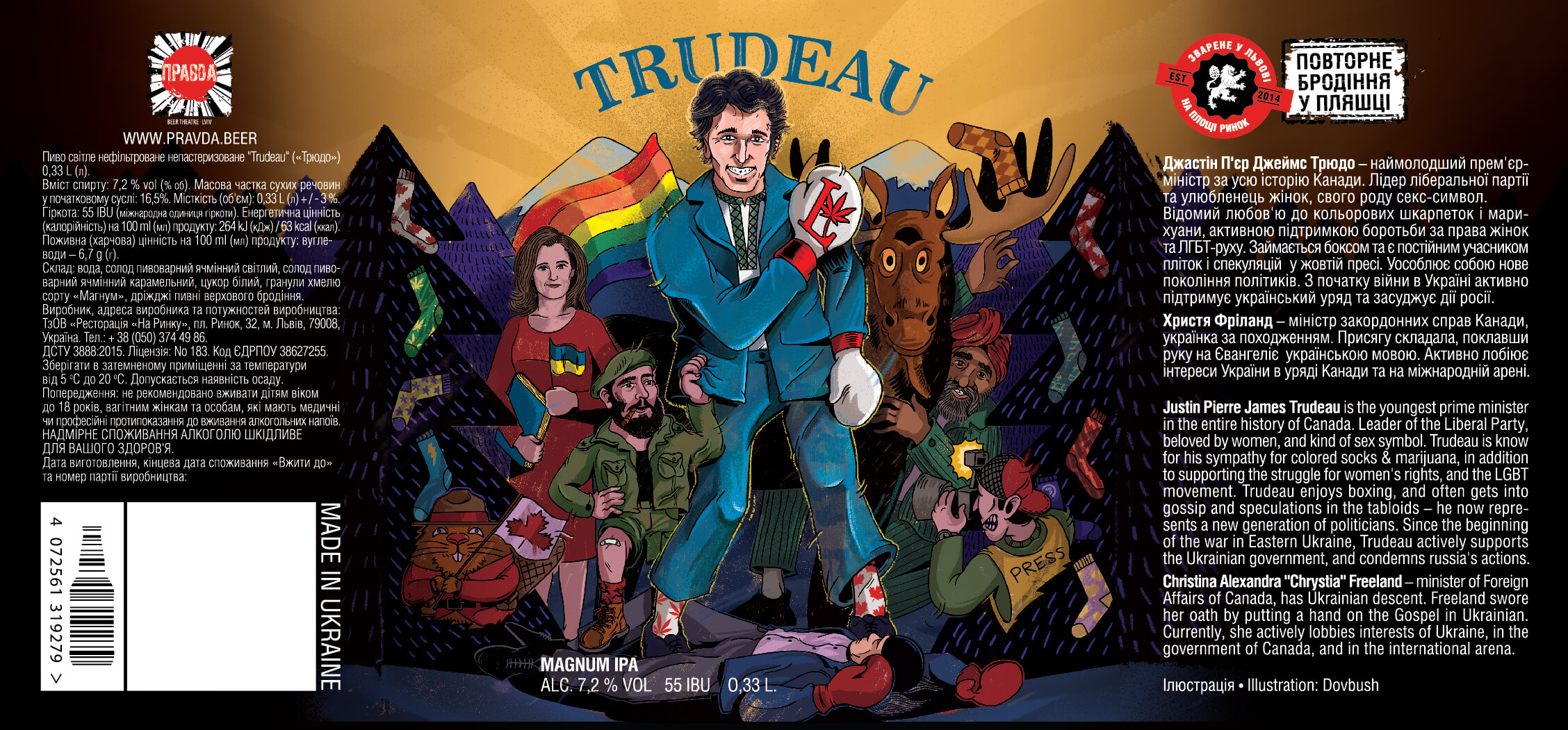 Justin Trudeau is a remarkable politician and a handsome man that is changing the world for better. Unique hobbies, a sense of humor, his position supporting Ukraine: this is all shown on our label. We specified his well-known love for colored socks. The beaver and the moose symbolize Canada, his native country. You can find his opponent, Patrick Brazeau, that Justin Trudeau beat him once in the boxing ring. There's a symbol of Liberal Party, too, in combination with marijuana because Trudeau promised to legalize marijuana in his pre-election company.
We also mentioned a fake internet story about family relationships with Fidel Castro. And, of course, we depicted Harjit Sajjan, Minister of National Defense, who demonstrates all diversity in Trudeau's government team. The fascinating fact is that Canadian government is gender equal: 15 men and 15 women. We cannot forget about his support of the LGBT movement. And, of course, the tabloid is shown in the label that is always spying on the Minister.
The Trudeau is depicted in Ukrainian embroidery shirt. He has really got it and he was wearing it in the Day of Embroidery on May 19. The shirt is embroidered using a traditional ornament – oak leaves and acorns that symbolize male power and strength.
Moreover, Trudeau has recently got a gift of set of colored socks of Ukrainian producers, and previously a Ukrainian polo shirt from "Aviatsiya Halychyny". Christina Freeland is shown with Trudeau, too, who has Ukrainian origin and works in the government of Canada. She is a well-known defender of interests of Ukraine in Canada and in the world.
We really enjoy Justin Trudeau. He is a politician-freak who is changing the world for better and helping our country! The label is about his remarkable figure in world politics nowadays.
This beer is IPA, with alcohol content 7,2. It has got caramel sweetness from malt which perfectly balances flower hop flavor "magnum". It goes best with cheese and white meat.